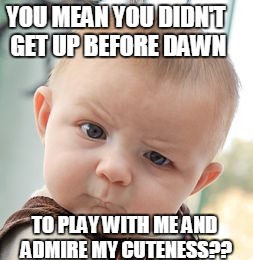 This weekend was day light savings. Both kids were up early Sunday, and we kept them up late that night.
And yet, right before I took my first step downstairs in the quiet dark of morning to write, there came a sound…
Actually, an wailing cry.
Toddler up. Writing time over.
Happy NaNoWriMo, week 2, everybody! Hope your writing is off to a better start today than mine! 😉
***
What's happening in your writing life?
Find a meme or make your own. Post on your blog and pingback to this post, share on social media with #WriterMemeMonday and have some laughs!
Happy #WriterMemeMonday and have a great week!